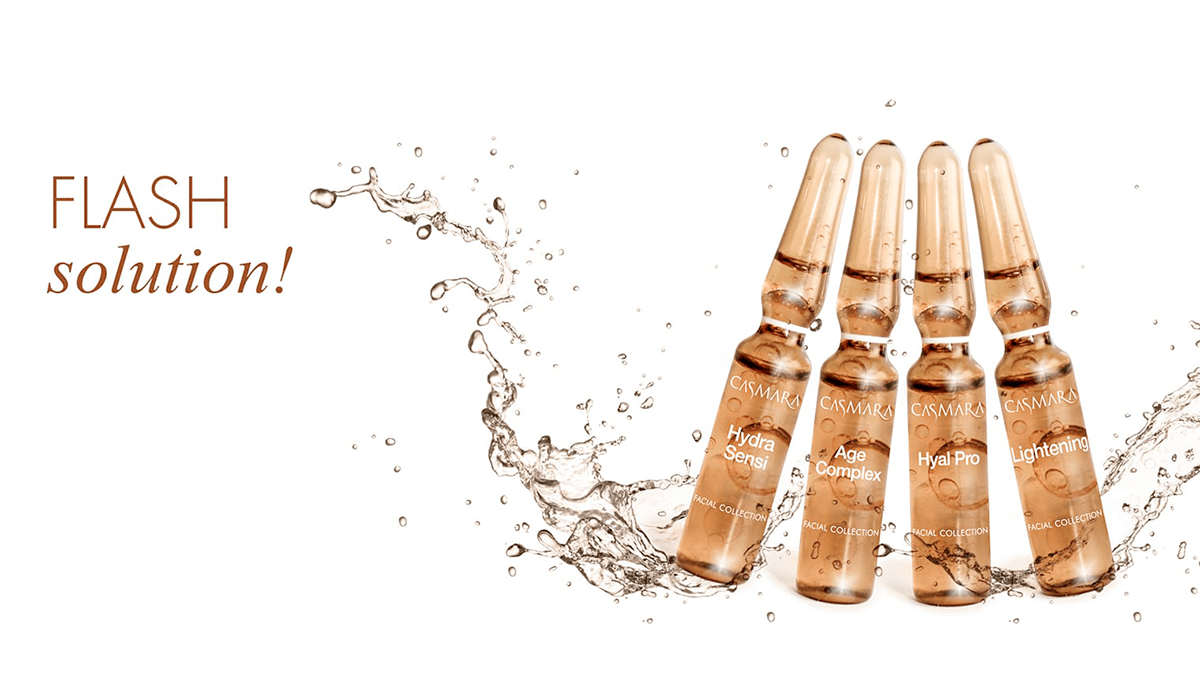 CASMARA flash ampoules: light textures with immediate results
The immediate effects of CASMARA flash ampoules make them an essential pre-party or pre-special event product, as well as an ideal complement for enhancing your skin's beauty at any time of day.
Flash effect ampoules have become very fashionable in recent years, and it's because they quickly come to our rescue on any occasion that we need an effective result, helping us to achieve radiant skin instantly.
This summer they have become the number one cosmetic ally for dehydrated or dull skins which need to regain their good looks immediately, or for that special occasion where you want to have hydrated, radiant and plump skin.
Today we want to show you the benefits of CASMARA Flash Ampoules: a high concentration of active ingredients with an ultra-light texture which allows rapid penetration, active ingredients which act on the different skin layers, delivering a deeper action, and active ingredients which provide an immediate flash effect.
The heat and the sun dry out the skin, so CASMARA flash ampoules, with their oil-free rapidly absorbed textures, are also a good option to be used in daily beauty routines during the summer.
When should CASMARA flash ampoules be used?
The flash ampoules can be used anytime, anywhere, both regularly and occasionally, since not only do they provide a flash effect, but they also moisturize instantly and provide an immediate beauty effect. Furthermore, they are formulated to respond to the different needs of the skin and perform roles such as smoothing wrinkles, fading dark spots, brightening, revitalizing, etc.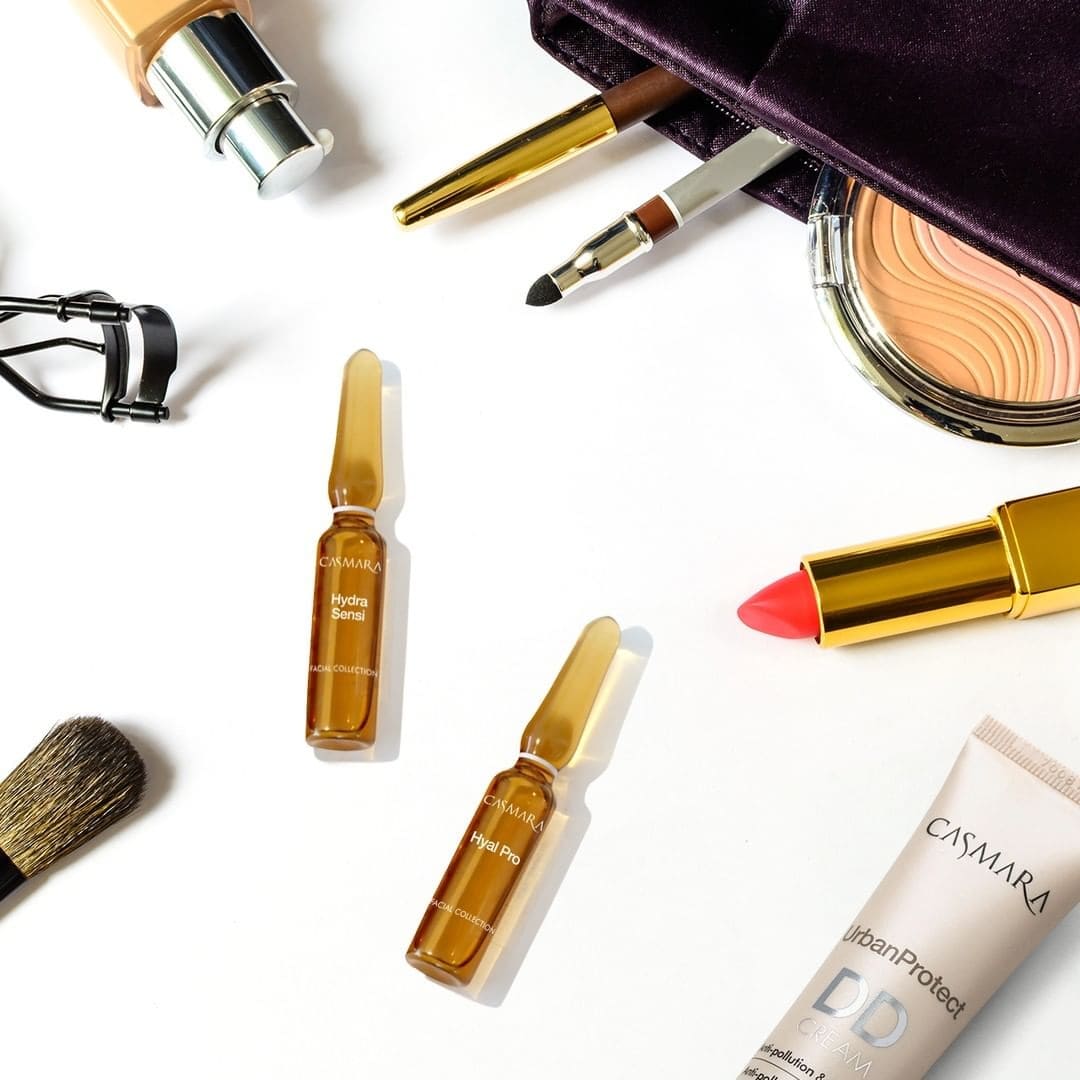 You can include CASMARA flash ampoules in your daily beauty routine or use them when you need it most (weddings, summer events), due to their incredible benefits and immediate results: they reduce signs of fatigue, provide a rapid anti-aging effect, smoothing expression lines and improving the condition of the skin long-term.
There is a suitable formula for every skin type, which can adjust to the particular needs of your skin.
CASMARA has a range of 4 'flash effect' ultra-light formula ampoules which include technologically advanced active ingredients. These ampoules are the perfect beauty ally, as they act on our face in a matter of seconds.
CASMARA Flash Solution Ampoules
Age Complex is a firming Anti-aging Flash Ampoule that stimulates collagen production and performs a powerful anti-aging, anti-wrinkle and firming action, which prevents premature aging and helps to restore the skin's good condition.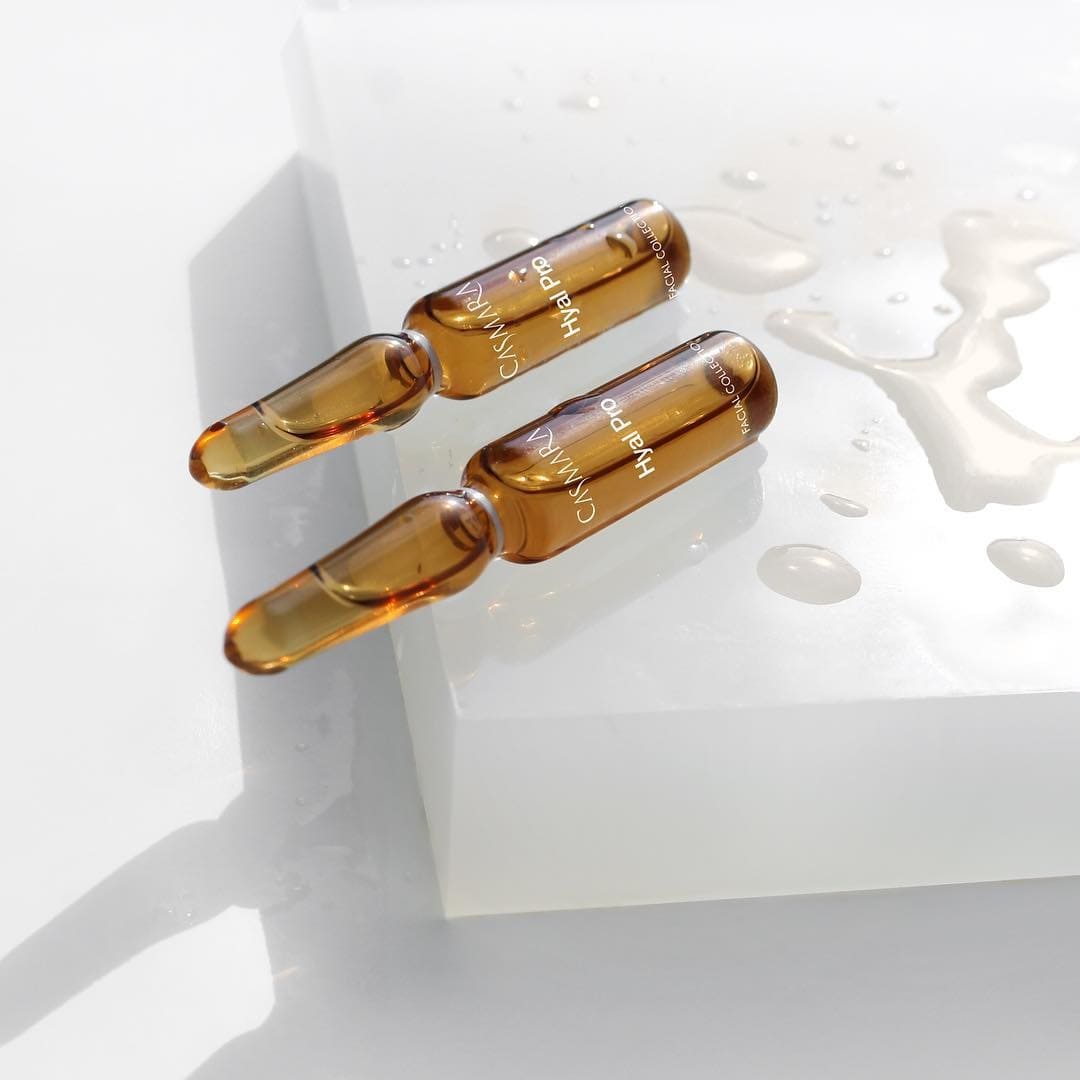 Enriched with Japanese cedar extract, an anti-aging active ingredient which stimulates the cell renewal process and achieves smoother, younger looking skin; and amino acids which are precursors of collagen and elastin production, which provide elasticity and firmness, plus a reduction in the depth and quantity of wrinkles, also preventing their future appearance. The result: firm, toned, youthful and smooth skin.
Hyal Pro is a long-lasting moisturizing and wrinkle-filling ampoule with a powerful formula containing Hyaluronic Acid, which, thanks to its low molecular weight, can penetrate deeply and fill wrinkles from the inside, while acting as a powerful long-lasting moisturizer, achieving a hydrated, smooth, plump, redensified and younger looking face.
It hydrates and refreshes, relieving the sensation of dryness caused by sun exposure or the summer heat. Ultra-hydrated skin in the blink of an eye!
Hydra Sensi is a flash ampoule suitable for sensitive, reactive and/or atopic skin, which hydrates, calms, balances and instantly soothes redness and skin irritation.
The Hydra Sensi ampoule contains an extraordinary formula made with marshmallow extract, a natural moisturizing, emollient and calming active ingredient; and marine collagen which regenerates, prevents signs of aging and progressively rehydrates the different layers of the skin, improving the skin's balance and moisture.
Lightening is an anti-aging clarifying flash ampoule with a revolutionary anti-aging formula, which also brightens and evens the skin tone. Thanks to the sublime fusion of powerful lightening wild plants and bioavailable vitamin C, this flash ampoule gives a light to the face which revives from the inside. The result is a more luminous, even skin tone, and more youthful, hydrated skin with faded dark spots.
Lightening A perfect option to carry in our bags this summer and for any occasion. We're revealing the benefits of CASMARA ampoules to you so that you can have instantly radiant skin!
Flash Ampoules: How and when should they be used?
Before applying a CASMARA flash ampoule, you should have clean and dry skin. Choose your usual daily cleanser to remove impurities and dead cells.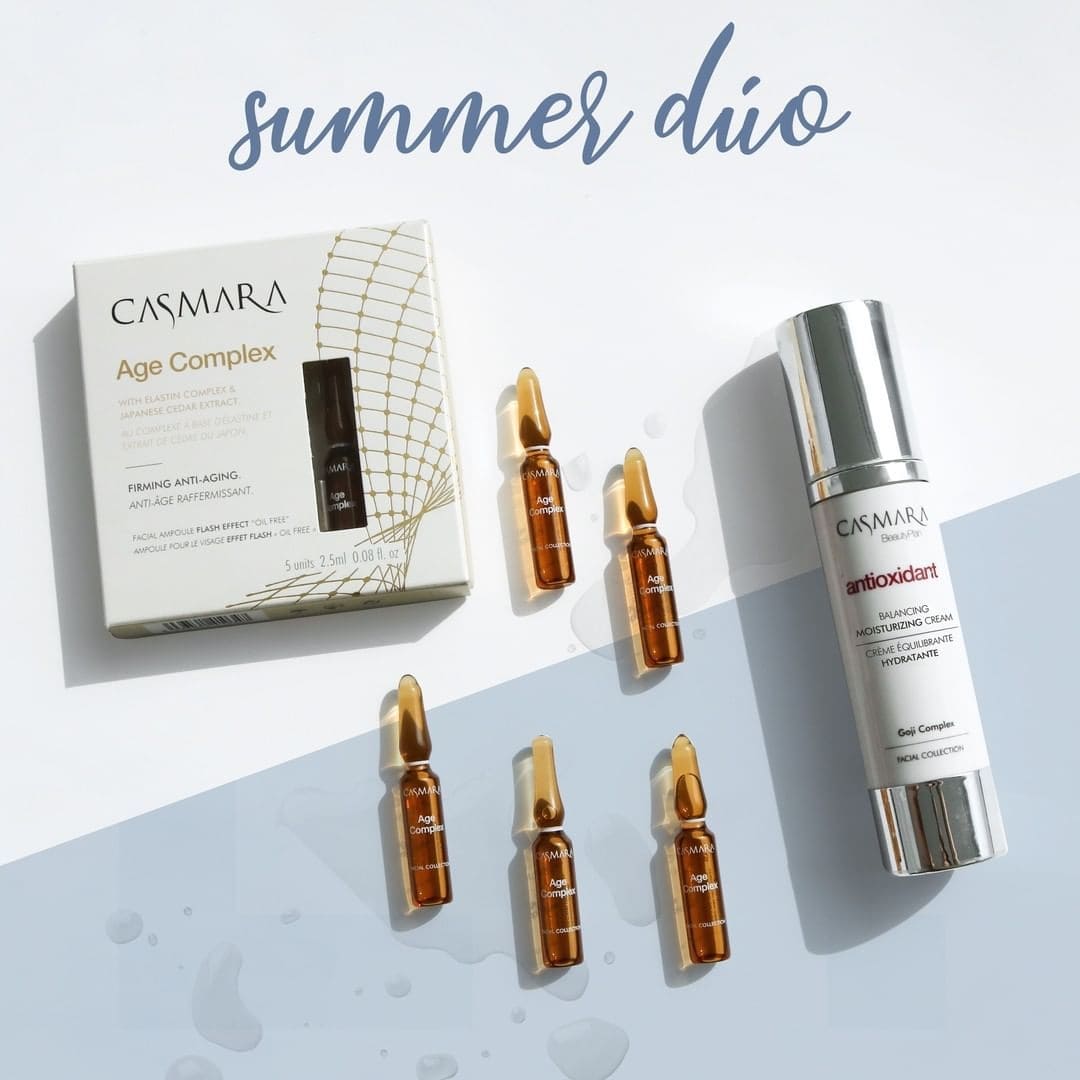 After that, shake the ampoule and insert it inside the protective tube, break the upper part of the cap with the help of the protective tube, and fit it together using a little pressure with the ampoule. Then, open the lid of the protective tube and apply the content of the ampoule over the skin, gently massaging the face, neck and décolletage, lightly tapping with the fingertips, and gently smoothing upwards and from the center outwards. Afterwards, you can just apply your usual cream and make-up, if you so wish.
CASMARA Flash Ampoules: sublime, hydrated and cared-for skin!