The latest in anti-aging cosmetics
CASMARA present their revolutionary new AgeDefense beauty plan. A beauty plan which creates an alliance with your face to keep it looking young and perfect with incredible results. Would you like to discover the best defense against the passage of time?
Our skin is protected against external agents that cause aging with a defensive barrier. The skin's first defensive barrier called Eco Flora is the most superficial barrier and consists of PROBIOTICS which have the power to strengthen the skin's natural ability to defend itself, preventing the appearance of unsightly signs produced by the passage of time.
PROBIOTICS and our bodies are natural allies as they perform vital functions; it receives nourishment from PREBIOTICS in order to achieve balance and function correctly in addition to stimulating activity and growth.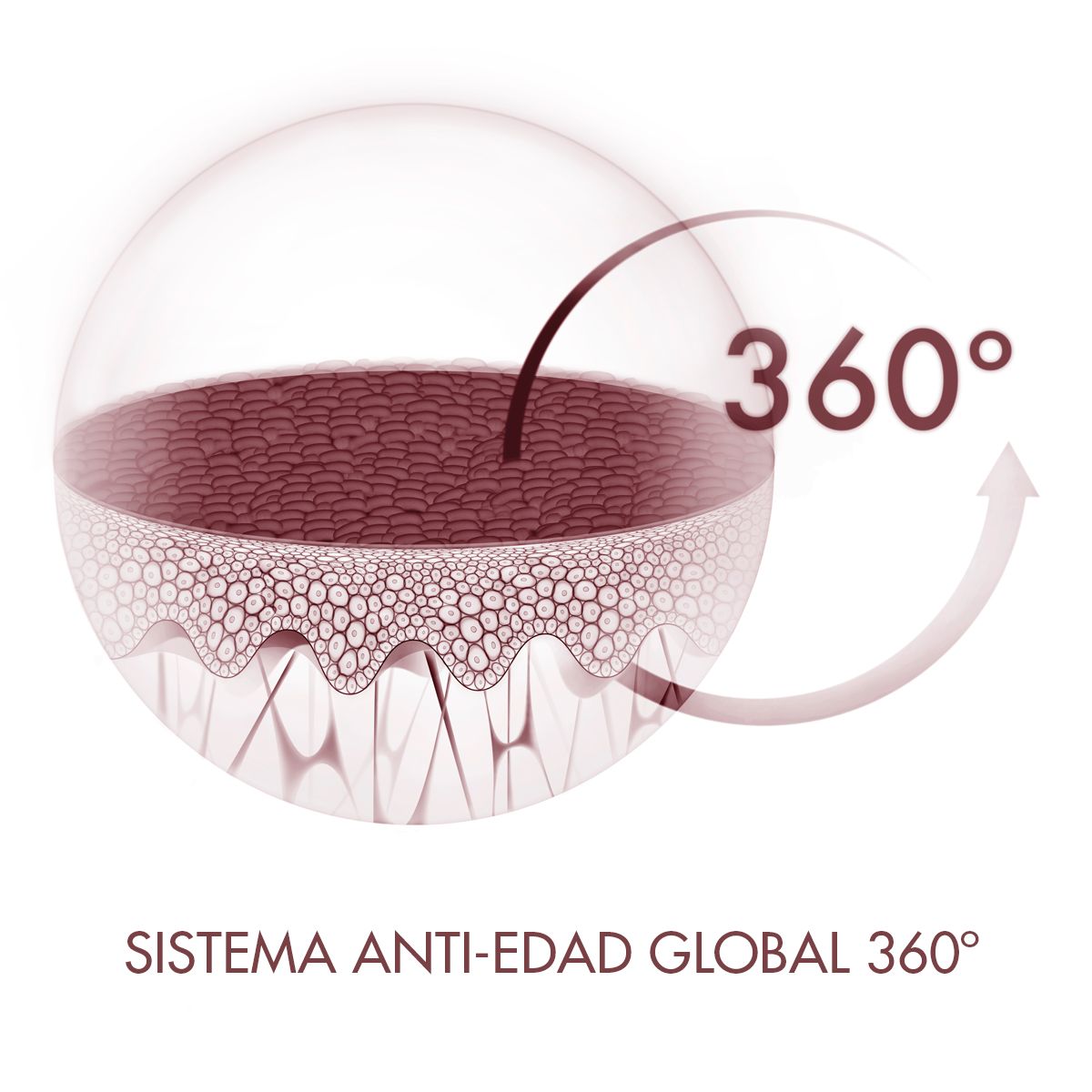 Research has revealed that the good condition of this first defense barrier (Eco Flora) is essential for maintaining youthful, healthy skin. It is for this reason that the CASMARA Investigation Centre has created AgeDefense, an exclusive beauty plan with an advanced 360º anti-aging system with PRO & PREBIOTIC TECHNOLOGY.
AgeDefense is state-of-the-art cosmetic innovation formulated with prebiotics, probiotics and technologically advanced natural active ingredients to achieve spectacular results on your skin.
What is PRO & PREBIOTIC technology?
A unique combination of prebiotics and probiotics which have an all round, 360º effect on the skin. They strengthen the first defensive barrier of the skin creating a protective shield against the passage of time. It stimulates collagen synthesis, improving keratinocyte cohesion and accelerating cell renewal, redensifying the skin "In vivo" achieving intense anti-wrinkle effects. A balanced and healthy skin.
What is a 360º ANTI-AGING SYSTEM?
An all round anti-aging revolution! AgeDefense works by means of a new 360º system which acts both inside and out on all the signs associated with aging. It provides specific active ingredients externally to reinforce the skin's first defensive barrier (Eco Flora) and internally returning the skin to the levels of one's youth Ensuring extraordinary and effective overall anti-aging care.
How does AgeDefense work on the skin?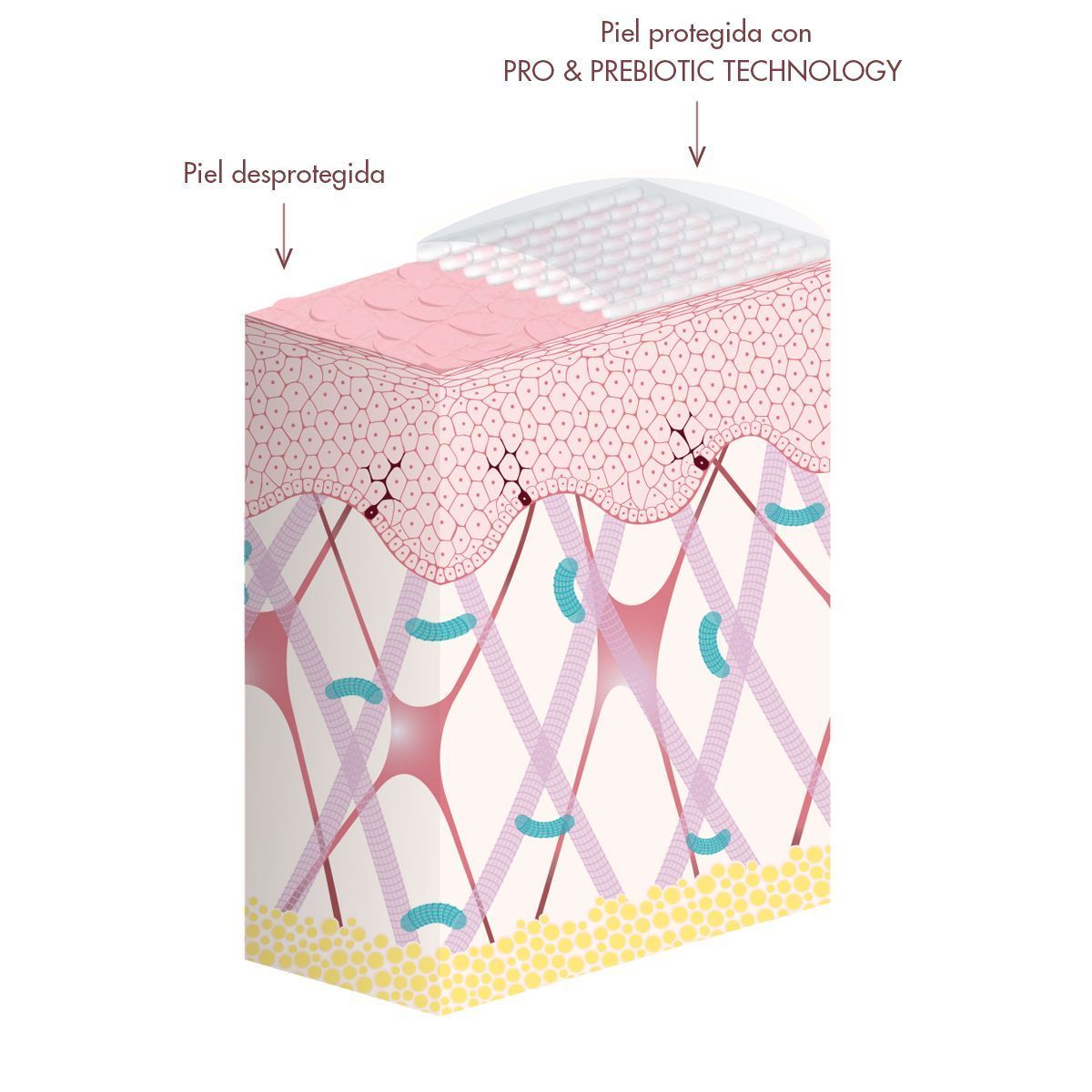 360° Anti-aging: combating all the signs associated with aging from inside and out.
Improving the skin's biosensoral capacity.
Forming a protective shield against pollution and preventing oxidation.
Stimulating collagen synthesis and improving keratinocyte cohesion.
Strengthening the skin's first defensive barrier.
Accelerating the process of cell renewal.
An optimal mix of moisturisation and nutrition.
What revolutionary results does it provide?
The treatment to stop, prevent and improve the visible signs of aging by effectively strengthening the skin and establishing balance has arrived. The face is protected, healthy and radiant. The quantity and depth of wrinkles are diminished, the skin is reactivated. With AgeDefense the face is intensely moisturized and nourished leaving it with a silky smooth texture.
AgeDefense Beautyplan!
AgeDefense, the ideal treatment to transform your skin and return it to its natural state of health and beauty. For women who have an active life, with a non-stop daily rhythm and who know what they want. This very complete collection consists of: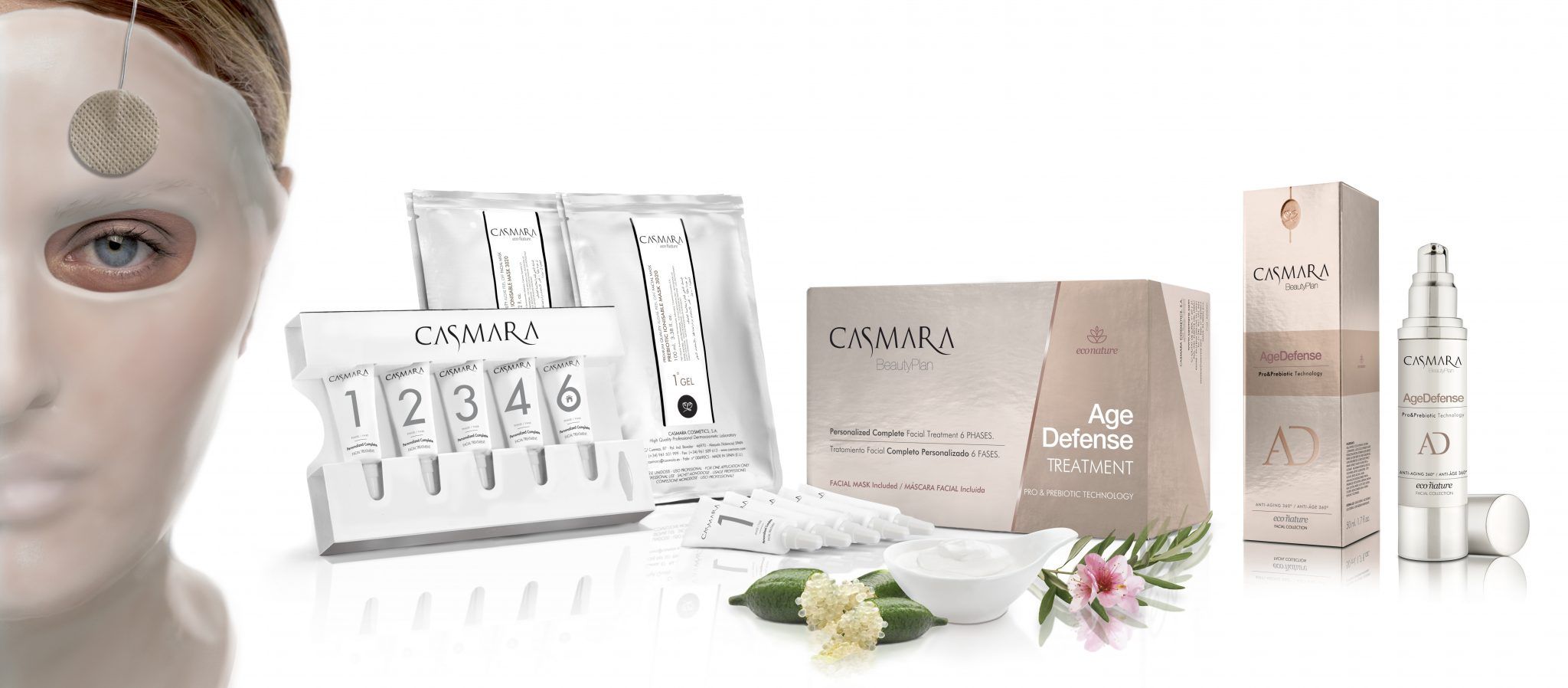 An exclusive professional treatment for professional salons CASMARA, following the pioneering and personalized 6 stage system combined with the benefits of PREBIOTIC IONIZABLE MASK 3020. The avant-garde ionizable mask formulated with Prebiotics and peel-off technology with 360º anti-aging effect. It is the only one in the world with these innovative characteristics: an innovative formulation which provides PREBIOTICS leading to comprehensive anti-aging care. It facilitates and stimulates the effects of the PROBIOTICS applied during treatment. Its ionization properties enhance the penetration of the active ingredients applied, achieving extraordinary results.
AgeDefense cream for retail, a natural 360º anti-aging cream with PRO & PREBIOTIC TECHNOLOGY. This exclusive formula is based on prebiotics, probiotics and technologically advanced active ingredients. It has a fluid texture and is suitable for all skin types. Anti-aging facial cream is essential to continue treatment at home and thus achieve exceptional results. A revolution in anti-aging creams.
AgeDefense is an ideal treatment that ensures exceptional results on your face. You've never seen anything quite like it!
An authentic revolution!
CASMARA, cosmetics without limits