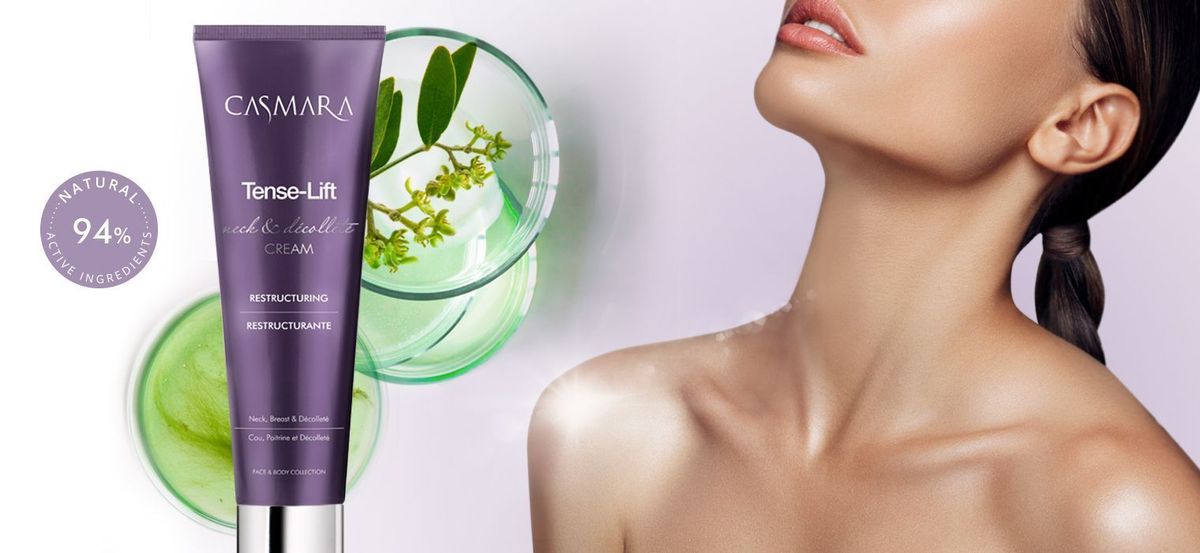 Want to expertly treat and prevent aging and flaccidity in the neck and décolleté area? One of our most iconic creams is back! Discover Tense-Lift's new look, the latest innovation by CASMARA.
Did you know that the neck and décolleté are two delicate areas that tend to age prematurely? These are two of the most fragile parts of the body; the skin is thinner, contains fewer collagen fibres and less fatty tissue, and as these areas is also constantly moving and often exposed to the sun, they're the first to give away your age.
Neck wrinkles, also called horizontal wrinkles, and décolleté wrinkles, known as vertical wrinkles, appear over the years and are generally caused by lack of hydration and loss of elasticity in the area, constant movements throughout the day, or postural reasons such as the way you sleep, becoming considerably more accentuated over time. We'll tell you more about them and how to prevent and treat their appearance with Tense-Lift, our expert restructuring treatment for the neck, décolleté and bust.
Main concerns that appear in the neck, décolleté and bust:
Neck stress: All the tensions suffered by the neck and décolleté area (long hours sat in front of the computer, sleeping on your stomach or side, etc.), all of which contributes to the formation of wrinkles.
Tech neck: Stiffness, tension and pain that spreads through the neck, shoulders and back area, caused by your posture while using technology. This tension also has aesthetic effects: it can lead to a double chin and horizontal lines.

Double chin: Accumulated fat beneath the chin that reduces facial contour definition.
Horizontal and vertical wrinkles: Neck and décolleté wrinkles are common and appear over the years due to constant movement and lack of firmness. They're accentuated by loss of collagen, and consequently, lost plumpness due to dehydration.
Hyperpigmentation: Occurs mainly on the décolleté, an area particularly exposed to the sun, which is often poorly protected throughout the year.
Photo-aging: The most common signs include wrinkles, dry skin, skin atrophy (thinning), solar lentigines (hyper pigmented spots) and irreversible diffuse hyperpigmentation.
CASMARA presents Tense-Lift, one of the most highly anticipated products of the year!
You've been asking us for a long time and finally, one of our most iconic creams is back! CASMARA has re-launched Tense-Lift.
Discover the expert treatment for the neck, décolleté and bust with Smart Lift Technology and its instant effect action. An exclusive formula with a Smart Lift effect that instantly rejuvenates, redefines and firms the neck and décolleté. This extraordinary treatment and preventive cream acts on the 5 key actions that cause aging in these delicate areas, providing a redefined facial contour and a smoother, younger-looking neck, décolleté and breasts.
The result is amazing: 77% redensified skin, 74% redefined and firmer neck. You haven't tried anything like it:
– Redefined, youthful skin contours. Stylized chin and neck, enhanced breasts.
– Firm, supple skin.
– Softened wrinkles.
– Plump, redensified skin.
– Intensely hydrated skin for 24 hours, providing extraordinary comfort.
And all this thanks to the innovative active ingredients that the CASMARA Laboratory has included in this powerful reformulation, the combination of which maintains the youthful appearance of the neck, décolleté and bust over time in a spectacular way:
– Hydra+: Wrinkle filler action. Long-lasting moisturizing effect.

– Biological Nectar: Restructuring effect. Improves the skin architecture and firmness and reduces the number, length and depth of wrinkles.

– 3D Tensor: Remodelling active ingredient with a lifting effect.

– Matrix-T: Triple firming action. Powerful firming active ingredient.
This new treatment and preventive formula is indicated for skin with wrinkles, flaccidity and lost density, as well as lost firmness in the delicate skin of the neck, décolleté and bust, or anyone wanting to prevent the appearance of the signs of aging caused by the passing of time.
This is an essential complement for those over 35 years old, the age when the skin suffers a significant decrease in the synthesis of elements responsible for its firmness and elasticity.
Discover the best daily care routine for the neck and décolleté

Your usual beauty routine should also include the neck and décolleté, two eternally forgotten areas that you should care for as much as your face.
Here's the essential 3-step care ritual to prevent this fragile and delicate area from aging prematurely or appearing older.
Step 1: Use the 3-in-1 Multifunctional Cleanser every day to cleanse, condition, tone and prepare the area.
Step 2: Once a week, prepare Natural Peeling Tri-Active and Oxymask to perform a complete ritual. This way, you'll also restore the beauty of this area by exfoliating and renewing the skin, keeping it purified, energized and radiant thanks to the active oxygen that performs a super-relaxing micro-massage.
Step 3: Apply Tense-Lift with an extraordinary self-massage.
What's the Tense-Lift self-massage?
The Tense-Lift self-massage enhances the power of the cream by helping the active ingredients to penetrate properly. Learn how to apply the cream to your neck, décolleté and bust to achieve extraordinary results with the following video.